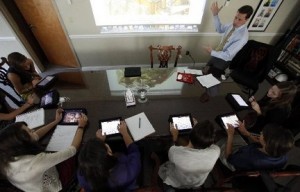 The following is a list of iPod and iPad apps that can be used in high school learning environments. I'll keep this updated as I find new apps that could be useful!
All Subjects/General/Productivity
Note Taking
Flash Cards
Art
Astronomy
Calculators
Electives/Other
Magic Piano – Play timeless pieces on spiral and circular keyboards, or follow beams of light – mastery requires only imagination. Play alone, or travel through a warp hole and play Piano Roulette with other performers across the world.
Fashion Sketchbook: The Stylish Dress Up Game – A fashion design application that allows the users to design outfits.
ESE Modifications/Accommodations
Foreign Language
Human Biology
Language Arts/Reading
iBooks

 – a ereader book store

Book Creator – Create your own iBooks right on the iPad. (Allows everything except video)
Free Books – 23,469 Classics to Go
Reading Trainer – This app teaches you how to train your eyes and brain to read and comprehend text faster. Think of it as exercise for your reading skills
Dictionary.com – Dictionary & Thesaurus – A dictionary and a Thesaurus
Literary Analysis Guide – Elements of literature are arranged graphically around three wheels (poetry, prose, and rhetoric)
Kindle – Kindle is an eReader from Amazon.com
Shakespeare Pro – Complete works of Shakespeare. 41 plays, 154 sonnets, and 6 poems. All works can be cross searched for anything
Jules Verne Collection – Sixteen of Jules Verne's books
MaxJournal – A simple and elegant journal
Essay Grader – Provide feedback on essays with this easy to use app
LitCharts – Link to LitCharts website. Each of the LitCharts are available on the iPad
Math
Music
Science
Social Studies