Here are iPad and iPhone apps that can be used in primary school.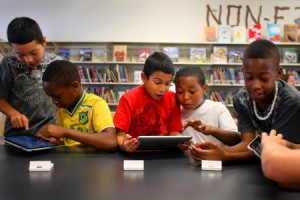 All Subjects/General:
Language Arts: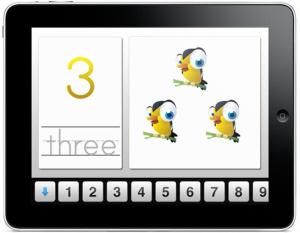 Alphabet Fun Learning the A-B-Cs was never like this. Alphabet Fun makes the most of Multi-Touch technology on iPad to teach kids letters, numbers, and colors. They'll swipe through colorful images and easy-to-read text. They'll trace over letters with their fingers right on the iPad display. They'll even write entire words. Kids think it's a game. Parents think it's educational. Everybody wins. (DESCRIPTION VIA APPLE)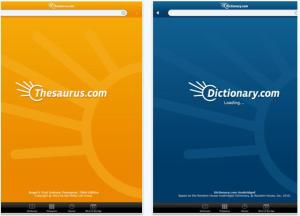 Dictionary.com and Thesaurus.com – The free Dictionary.com app delivers trusted reference content from Dictionary.com and Thesaurus.com, including nearly 1,000,000 words and definitions and 90,000 synonyms and antonyms. No Internet connection is needed. The app also features audio pronunciations, similarly spelled words and Dictionary.com's popular Word of the Day that is enjoyed by millions of people. (DESCRIPTION VIA APPLE)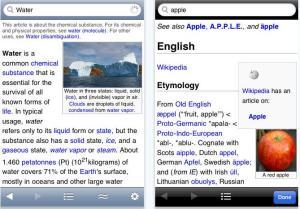 Wikipanion – Accessing Wikipedia has never been faster and easier than with Wikipanion, designed for easy, search, navigation and display of Wikipedia entries. Streamline your browsing with history grouped by visit date, and bookmarking that not only bookmarks individual entries, but individual sections within an entry. (DESCRIPTION VIA APPLE)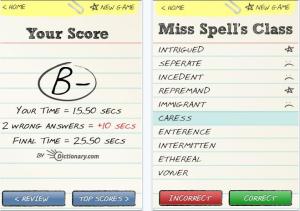 Miss Spell's Class is an original word game that lets players test their spelling skills against the most commonly misspelled words on Dictionary.com. Players must quickly decide whether each of 20 words is spelled correctly or incorrectly, as speed and accuracy count to get to the top of the class! (DESCRIPTION VIA APPLE)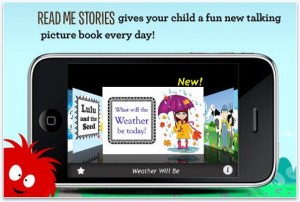 Read Me Stories – A new talking picture book EVERY DAY teaches your child new concepts, new words and how to say them. Your child can practice reading – anywhere, anytime – while you're driving, shopping in the grocery store, or having a quick coffee at your favorite cafe. Our books are fun and entertaining – so your child will look forward to reading their new book, every day! Imagine that – your child reading a new book everyday! You can spend quality time with your child while teaching them the core skills of reading and speaking that are so necessary for every child in today's modern world. Bedtime reading will become something extra-special. Or, you can have a break while your child practices reading. With our books in your pocket, that can be when and where it fits into your day. (DESCRIPTION VIA APPLE)
Dr. Suess's ABC – The beloved classic "Dr. Seuss's ABC" is now available for your iPad, iPhone or iPod Touch
Word Magic – Teaches young children how to read and recognize letters
Animated Rhymes 3 – This App contain 2 Rhymes (1) Pussy Cat (2)The Dog Says Bow, Wow

Toontastic

 – Create your own stories on line using the story arch and our animated artwork

Book Creator

 – Create your own iBooks right on the iPad. (Allows everything except video)

Popplet

 – Popplet is a platform for your ideas. Popplet's super simple interface allows you to move at the speed of your thoughts

Reading Trainer

 – This app teaches you how to train your eyes and brain to read and comprehend text faster. Think of it as exercise for your reading skills

Super Why

 – Help your child achieve the Power to Read with this collection Lof four SUPER WHY interactive games

StarFall

 – The "ABCs" section of Starfall.com's well-loved website

SpellBoard

 – Monday, we get our weekly words. Wednesday, we have our pre-quiz and Friday is the spelling test

Story Wheel

 – Story Wheel" is an educational game that improves your child's cognitive abilities

Preposition Builder 

– PrepositionBuilder™ is designed to help elementary aged children learn the correct use of prepositions and learn how prepositions can change the meaning of a sentence

Conversation Builder 

– ConversationBuilder™ (Patent Pending) is a Conversation Simulator designed to help elementary aged children learn how to have multi-exchange conversations with their peers in a variety of social settings

Language Builder

 – Language Builder is designed to help children accomplish the following educational goals: 1) Improve sentence ideation ; 2) Improve sentence formation; and 3) Improve receptive and expressive language

Question Builder 

– Question Builder is designed to help elementary aged children learn to answer abstract questions and create responses based on inference.

Sentence Builder

 – Sentence Builder is designed to help elementary aged children learn how to build grammatically correct sentences

Story Builder 

– Story Builder is designed to help children accomplish the following goals: 1) Improve paragraph formation; 2) Improve integration of ideas; and 3) Improve higher level abstractions by inference

Inspiration

 – Inspiration Maps brings visual thinking and learning to the iPad

Bluster

 – Bluster is a fun and simple vocabulary building game.

StoryPress

 – You can fill your StoryPress Library with storybooks that inspire you in different ways: a collection of family stories, or even an audio diary. Make StoryPress interactive: create guided interviews directed by you, with the spoken anecdotes contributed by a mentor, a friend, or a family member, near or far
Books (not in the iBooks App)
Math: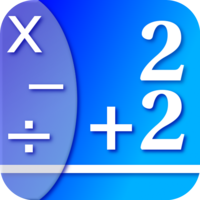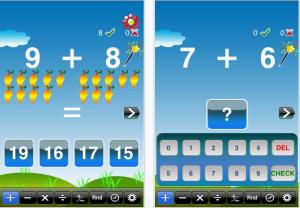 Math Magic – Don't you just love how much your child has improved in adding, subtracting, multiplying and dividing? You never get tired of hearing, "Can I do math?" from your six year old, do you? Of course you don't. (DESCRIPTION VIA APPLE)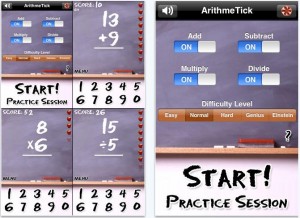 ArithmeTick – How fast can you add and multiply? Solve math problems against the clock! ArithmeTick is a challenging math game where you solve addition, subtraction, multiplication and division problems! The objective in ArithmeTick is to solve as many problems as possible before time runs out. You are awarded up to 10 points and additional time for each correct answer. A practice mode is also included to help sharpen your math skills! With five difficulty levels, ArithmeTick is perfect for kids and adults!
Science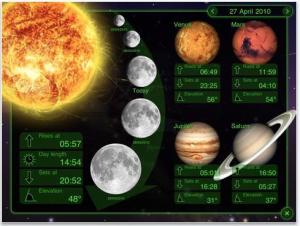 Star Walk is a winner of APPLE DESIGN AWARDS 2010 for technical excellence, innovation, superior technology adoption, high performance, and outstanding design! Star Walk is installed for demonstration on iPads at Apple Stores! Try it out in the shops! Enjoy NEW Picture of the Day and Bookmarks sections, share your astronomy observations via Facebook and Twitter! iPhone best astronomy app *Featured by Apple – Best Apps of 2009!* is now available for iPad! On a bigger screen starry night sky looks fantastic with 3D graphics and one of the user-friendliest interfaces ever. Star Walk is your personal planetarium that can answer to all your curiosities about the sky! For anyone who is interested in stargazing, amateurs or professionals Star Walk makes discovering more than 9,000 stars, planets, constellations, messiers as beautiful and easy as it has never been before! (DESCRIPTION VIA APPLE)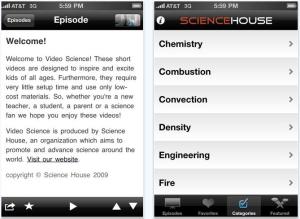 VideoScience – Science Class Experiments brought to you by Science House and featuring Science Teacher Dan Menelly, winner of the NSF Einstein Fellowship in Cyberinfrastructure! These videos are 2 to 3 minutes in length and demonstrate the steps of simple science experiments. The experiments are designed to inspire and excite kids of all ages, with very little set-up time and using only low cost materials. So whether you are a public school teacher, private school teacher, or home school teacher; we hope you use these videos and the many more on our website to ignite the scientific passion in your kids. (DESCRIPTION VIA APPLE)
3D Sun – lets you carry a virtual window onto today's sun, right in your pocket
Star Walk HD – Star Walk enables you to point your iPad at the sky and see what stars, constellations, and satellites you are looking at in real-time
3D Brain – Discover how each brain region functions, what happens when it is injured, and how it is involved in mental illness
iSign3D –  Introducing an innovative application for learning the American Sign Language alphabet for the iPad

Nova Elements

 – With "NOVA Elements," explore an interactive periodic table, play a game hosted by David Pogue, or watch the two-hour NOVA program, "Hunting the Elements."

HTS Periodic Table Pop Quiz

 – The Periodic Table Pop Quiz will exercise your brain by testing your knowledge of names, symbols, atomic number, period, and group for each element on the Periodic Table

Stars

 – Stars is a light application that displays the 88 constellations in the sky

Molecules – Molecules is an application for viewing three-dimensional renderings of molecules and manipulating them using your fingers

SolarWalk

 – This 3D Solar System model enables you to navigate through space and time, observe all the planets in close-up, learn their trajectories, inner structure, history of their exploration, points of interest and more

NASA VIZ

 – This is the NASA Visualization Explorer, the coolest way to get stories about advanced space-based research delivered right to your iPad
Social Studies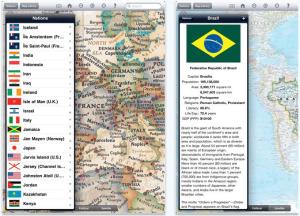 National Geographic's World Atlas HD – Designed specifically for the iPad, National Geographic's World Atlas HD puts our best maps in the palm of your hand. Unlike other map applications, the National Geographic World Atlas HD utilizes our highest resolution, press-ready images, providing you the same rich detail, accuracy, and artistic beauty found in our award-winning wall maps and bound atlases. The app is preloaded with 3 different styles of world maps, down to country-level detail. With an internet connection, you can continue zooming through continent-level maps to detailed Bing maps – close enough to see your home! (DESCRIPTION VIA APPLE)
Stack the States – Stack the States makes learning about the 50 states fun
Early Jamestown – Victory Productions presents an interactive textbook exploration of the early days of the Jamestown settlement and the state of Virginia
Era of Dino Lite – Here you will find descriptions of more than 330 dinosaurs and some information about the time periods of the Mesozoic era