From Every One to Choices to Specific Courses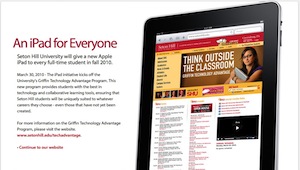 It's probably old news by now but there are several universities that are looking to distribute iPads in various ways this coming fall.
The one that seems to me to be the most extreme is Seton Hill University – which, according to this article, will be giving away iPads to all students (along with a 13″ Macbook laptop). A student memo states,
"Students will be able to download their textbooks to their iPads from the iBook Store. In addition, iPads can be used as phones and for air and file sharing, as well as note-taking."
Can you imagine what it might be like to get a laptop and an iPad for use in school? That could be one of the most important and interesting experiments using technology in schools.
At George Fox University incoming freshman enrolling this fall will have a choice between a Macbook or an iPad.
For more than 20 years, George Fox has supplied a computer for each incoming undergraduate student to keep upon graduating. The cost is included in tuition.

The decision to offer a choice puts George Fox on the cutting edge of technology in higher education circles, according to Greg Smith, the university's chief information officer.

"With this, we're basically asking students 'What computing system will work best for you?'" Smith said. "By giving them this option, they can choose between the iPad, a mobile device known for its networking and E-textbook capabilities, or the laptop, which offers more computing horsepower."

"How the numbers work out will be interesting, but no matter what I think we will see many iPads, iPhones and iTouches throughout the undergraduate population," Smith said.
Oklahoma State Test the iPad
On another front, I've just read an article in an online magazine called Campus Technology that says Oklahoma State will be testing the use of the iPad in PR and Marketing courses this fall. It looks like the tests will be focused on using the iPad as a research tool – and possibly saving some money (like $100) on a text book that will be in ePub format (a format that is readable on the iPad). The students participating in the test will be able to keep the iPads after the semester is over.
"This pilot initiative will provide valuable insight into the research benefits of the Apple iPad in the classroom," Hargis, said. "The iPad has had an amazing impact since being introduced and we are excited to be able to put this powerful and creative tool in the hands of students and faculty and see what happens."
The Campus Technology Article on Oklahoma State
Duke University Using iPad for Field Research
In a subsequent article from the same publication, Duke University is planning on experimenting with the iPad for field research. The iPad will be used in a master's course that introduces students to methodological techniques used in global health research. The Institute expects the iPads to increase research efficiency in the field by allowing students in low-resource settings to capture more data using one device than the traditional methods of data collection.
"Our primary goal is to equip our students with a toolset that allows them to make the most of their time in the field," said Associate Professor of Sociology Jen'nan Read, who will be teaching the class. "As calculation, graphing, and presentation-creation functions of the iPad are put to use in the field, so too is the ability for students to focus on mastering the more complex methods by which they are basing their research."

"Traditionally, the more sophisticated learning, the kind that requires synthesis and evaluation, occurs after the students have left the field, after they have completed data entry, and only after they have begun to organize, interpret, compare and contrast, and summarize their data by retiring to a location with a laptop or desktop computer, like their home or office," said educational technologies consultant Marc Sperber, who is the main consultant for this project. "With an iPad a student may collect, organize and display data while in the field, allowing them to immediately engage in analyzing and interpreting that data when and where it has greatest meaning."
At Duke the devices will be equipped with 3G and WiFi internet access as well as a variety of research and survey applications that can record and import multimedia interviews and photos, and collect, chart, evaluate, and present data. The applications will be in the categories of research, reference, communication, and navigation.
The Campus Technology Article about Duke University
What's it all mean? We've got PR, Marketing, field research, and everyone gets one. I imagine that we'll learn a lot from these experiments and by this time next year things will be quite different – with iPads in just about every learning environment we can think of. What do you think? Is the iPad destined for use in colleges?