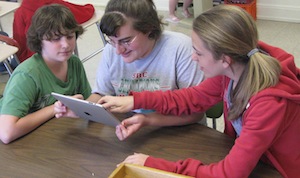 How might students use the iPad? The following reflections come from a middle school teacher in a blog post he made (after giving his iPad to some students and getting their input/opinion). In his previous post he was commenting about how the iPad had changed his life and wondered:
So now I wonder, if this has really changed my game, how might it change the game for a student who is able to go through the school day with it? One-to-one initiatives are popping up all over (finally), and the iPad may be one solution for students. An iPad is a consumption device more than a creation device (we still need laptops or desktops), but the types of input and resources available make it a real possibility for student use. I'm going to try an experiment this week with a couple of students and let them take it to all their classes for a day. I'm really interested in how they think an iPad might (or might not) make their learning better. Hopefully I'll convicne them to share there thoughts here next week. Stay tuned…
So here is what he came up with after hearing the feedback from the students he gave the iPad to.
1st period, Science: Collect microscope data using the ProScope Mobile

2nd period, ELA: Enter/edit literary responses in a discussion forum

3rd period, Music: Compose music and email the music and notation files with the app, Music Composer

4th period, Spanish: Record target language conversations with the app, Voice Memos for iPad, and email them to the teacher

5th peroid, Math: Practice solving equations in the app, Draw for iPad, and share them with classmates over Bluetooth

6th period, Social Studies: Review historical videos on YouTube or Discovery Education Streaming

7th period, Band: Put the iPad on the music stand and play music from the app, Scorcerer

8th period, Physical Education: Enter fitness data into a Google spreadsheet (AFTER keeping iPad in locker room and moving actively for 40 minutes in class…)

9th period, Art: Sketch designs using the app, Doodle Buddy, and post work to the class website
These are his first thoughts. His further reflection suggests that he's sold on the value of the iPad versus a laptop. His final thoughts in this post were:
So that is just a glimpse of what could be. All in a device that just turns on (as opposed to boots up) and tucks in your arm like a book. There is a incredible amount of room for deepening the learning experience for students. I totally acknowledge the proprietary nature of the iPad and some inherent limitations, but I'm still sold.

So the question becomes, does the school try to provide the iPads, or come up with some unique solution where families purchase them and get to keep them?
Back when the iPad first came out another teachers wrote the following review about the iPad and its use in schools:
What's GREAT about the iPAd in Education:

It's on INSTANTLY! I can't tell you how great that is to have what you need on NOW! Love it.
It's FAST! Everything is so fluid and quick. (And BIG!) Better than any interaction with iPhone or iPod Touch.
Reading books is outstanding!
The battery life is incredible. You can you use it all day on a single charge.
You don't have to SAVE anything. Yep, that's right, just hit the Home Button and come back later. It's still there. Love it!
There is nothing to learn. You just use it!
The iPad's inability to multitask is a plus for students. They will learn to focus on the project at hand.
Keynote's ability to place a simulated red laser pointer where you touch is a nice touch.
The sheer fact that it holds so much content and can do so much in such a small form. Amazing. Yes, even magical.
Amazing Apps! Download the Free and spectacular Dragon Dictation to speak text into your iPad. It is so easy and accurate.
You can teach with it! You can actually walk around teaching with the iPad in one arm while displaying notes, plans, grades, etc.

How can the iPad be Improved for Education?

The iPad can't print. (Teachers need to print stuff.)
The iPad Dock Connector to VGA Adapter is horrible for education! Your choices for what you can project is far, far, far too limiting. You can't share a webpage on the projector, or a book for that matter! (Full review coming soon.)
More Educational Apps! (Build them and teachers will buy them. Better yet, give teachers an easier SDK to create our own. Templates?)
Textbooks Available on the iBooks Store. (Give it time.)
Educators and students need a camera. Student recognition, projects, capturing data, and more. (You put one on the iPod Nano for crying out loud.)
iPad to iPad collaboration and interactivity.
The ability to work together with Interactive White Board (SmartBoards). Teachers love their SmartBoards.
Easier ways to transfer documents. It is difficult to get Pages Documents, Keynote Presentations, Photos, etc, onto and off of them iPad. Not all classrooms allow students to email.
As I find more teachers reviewing and exploring the use of the iPad in schools I will post them here. What's your take on the primary uses of the iPad in schools?