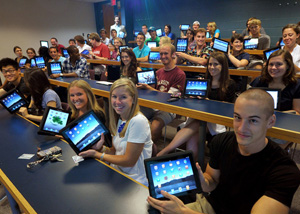 The iPad continues to make inroads in schools. Numerous schools are providing iPads as part of the schooling experience and several are now requiring iPads.
Arkansas State University is requiring incoming freshman to have an iPad and to take a course called "Making Connections" – a course designed to help first-year students transition into higher education by teaching them study skills, personal organization and how to conduct research, as well as familiarizing them with campus resources. Last year there were over 1700 students in this course.
Arkansas State Chancellor Tim Hudson said that requiring students to use the popular tablet computer will lead to "improved education performance." The effort, which is the first time a public university in Arkansas has required all freshmen to use iPads, is getting ASU faculty more involved in developing multimedia curricula especially for the iPad, via iBooks and iTunes U.
Students can either get an iPad from the student store or provide their own. In addition they will purchase a $48 "connection kit," which includes the course textbook; a copy of the course's common reader book, "Zeitoun" by Dave Eggers; and a suite of productivity and creative apps, including Apple's Pages, Numbers, iPhoto and iMovie apps. There's also a $25 gift card to the IT Store, which students can use to buy an iPad case.
In addition to providing the course ASU has also worked to make sure students can access plenty of content with the device. In an effort that coincided with the tablet-intensive "Making Connection" course, ASU's Dean B. Ellis Library spent $500,000 to buy the complete online resource of 14,000 scholarly e-books collected by JSTOR, a nonprofit digital library that supports higher education. The library says it will provide full access through its website to the entire collection of titles from 34 publishers, including the Modern Humanities Research Association, RAND Corporation, and university presses at Princeton, Kentucky, Illinois, North Carolina and Texas.