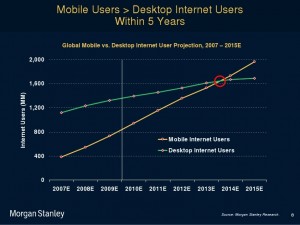 The pace of change is accelerating everywhere and one of the primary drivers of that change is what I call the "digitization of everything."
Every industry is being impacted – and most in some pretty significant and often severe ways. Schools aren't keeping pace with this level of change – nor are they preparing young people for a world that is radically different from today (which is radically different from just a few short years ago).
Add to that the trends in mobility and you've got a perfect storm.
Here are a few of the key trends showing how these forces are impacting schools
IT spending is up: The Center for Digital Education estimated education spending on IT reached $19.7 billion in 2010-11 and it's expected to rise again in 2011-12. Despite school budget cuts, officials are spending more money on tech than ever before. Traditional educational publishers are devoting more attention and budget to the digital world and tech giants like Apple, Microsoft, and Amazon are trying to push their devices into schools.
Hardware spending is up: According to an Education Technology Market Watch report, there's a clear move to channel funding into technology and the bulk of that spending (55 to 60 percent) in middle schools (K12) is on hardware.
Digital textbooks taking off: Project Tomorrow reports that 27 percent of middle school and 35 percent of high school students use digital textbooks. On top of that, the Pearson Foundation reports that 58 percent of college students prefer a digital format for textbooks. Tablets and e-readers are the ideal windows for that content.
iPad tests: In McAllen, Texas, public school officials have opted for iPads over desktop PCs and plan to distribute 25,000 iPads over the next few years. The total spend of $20 million in the McAllen district covers the cost of the iPads and also the Wi-Fi network and training needed to support their use. The program includes iPads for third grade and upwards and iPods for pre-kindergarten up to second grade. San Diego distributed 26,000 iPads to students this year and Chicago public schools have around 20,000 iPads.
Worldwide adoption: Further afield in Scotland, the government recently announced plans to spend £60 million ($95 million) on tablets for universities, colleges, and schools. It's fast becoming a worldwide trend.
Bring Your Own Tablet: There is also a mirroring of the BYOD trend which is sweeping through the business world. Many students will soon have their own tablets or smartphones and will choose to use them for school work. Some educational establishments are looking at voucher systems to enable students to buy their own devices. Budgets in education are always tight and so any solution that can help reduce the cost is bound to be explored. If students were expected to bring their own devices, then those with parents who can't afford tablets could be equipped from a smaller school-owned pool of devices.
Promising case studies: A Learning Untethered case study offers a valuable insight into the pros and cons of tablet implementation in the classroom. The project involved equipping a 5th grade class of 27 students with 7-inch Samsung Galaxy Tab devices at a cost of around $200 per student. Though there were a number of technical issues the results were overwhelmingly positive with greater student engagement.
The iPad is playing a big role in this transformation – and with the introduction of the iPad Mini we should expect to see even greater adoption.
Here's an article about mobile learning and how schools have to find a way to adapt to the mobile influence in our lives.
"Kids are the experts on the technology," Soloway says. "Teachers are the experts not on the content but on the pedagogy and classroom management. The two have to live together. They have to learn together."

…Mobile learning is not hype, Soloway and Norris assert emphatically, citing experience from their research in Singapore for the WeLearn Project. WeLearn gave Nokia Lumia 710 phones, running Windows, to a class of third graders at Nan Chiau primary school in Sengkang New Town, located in the northeastern region of the country. The goal of the project is to foster 21st century skills in these students by moving them from the traditional teacher-centric learning model to a student-centric approach that encourages collaboration and project-based learning.
And here's an example of what's happening in schools around the US:
A North Carolina school district will receive $30 million through a federal Race to the Top District grant. It plans to use the funding to provide tablets for its sixth- through eighth-grade students.

Guilford County Schools (GCS) is one of 16 nationwide recipients of the United States Department of Education's Race to the Top District grants. The district won $30 million, with grants in the amount of $400 million distributed in total.

The Guilford school district will use the funding to buy tablets for its 17,000 students in grades 6-8 at 24 middle schools, provide training to students, families, teachers, and principals, and hire additional technology coordinators.
And here are some recent articles showing the iPad's influence and impact in schools:
A pilot program that has put iPads into the hands of about 1,000 Wausau School District students has students excited about learning and employing plenty of creativity in their work, educators say.
Muncie teachers get their iPad tablets this week
Most of the district's teachers received the iPads this week (or will very soon), according to Ermalene Faulkner, MCS chief academic officer.

"The excitement is really building," Faulkner said. "I am really encouraged about where we are so far in this process."

The school board in January approved the use of $2 million in the Rainy Day Fund for all of the tech upgrades.
St. Patrick School students take a virtual trip to Australia
Fifth-graders tap iPad screens and punch computer keys during a St. Patrick School computer class, where students virtually venture across the Pacific Ocean to work with sixth-graders in Sydney, Australia.

Glenn Loayza, a St. Patrick technology teacher, launched a global collaboration initiative that utilizes Skype video chatting.
iPad: Bringing the joy of reading back to those with vision problems
Summary: A new study investigating the use of electronic reading devices shows that using the iPad for reading brings the joy of that pastime back to those with vision loss due to disease.
La Center schools plug into the future
District embraces technology with use of iPads by students
A hushed air hung over Rhea Heaton's first-period Spanish class at La Center High School, as students took an end-of-the-week quiz Friday. Light murmurs of students asking questions mingled with the gentle tapping of fingertips on illuminated screens.

In front of each student was an iPad — a tablet-style computer with a touch screen. Questions were displayed in Spanish and answered with the swipe of a finger. The days of Scantron sheets and No. 2 pencils are being phased out of the La Center School District, as it forges ahead with bolstering its technological resources.
Finally, here's a great way to think about the use of technology and it's impact on school. Where are you on this continuum?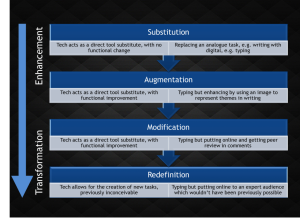 Source: http://ictevangelist.com/