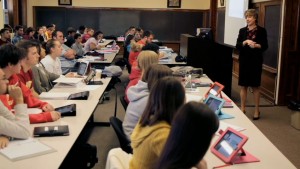 It's been about 2 years now since the iPad was first realized and a lot has happened in that short time. Apple has sold approximately 64million iPads in two years. To put that into perspective, I believe, no other product of any kind has ever sold this many units in that time frame. And, at a price point of $400 or more that's no small feat.
I've written before about how I feel the iPad itself won't make the difference. What is truly needed is a rethinking of the 'how' as well as the 'what' in schooling. Teachers must become much more learning facilitators and coaches – and the idea of singular subjects as curriculum just won't cut it for 21st Century success. That said, the iPad is still making a significant impact on schools and schooling.
The following are only a few ways the iPad is changing schools:
much like a computer but with a smaller and more accessible form factor, the iPad can be used for much of the same things computers have been used for in schools: to do research on the internet, take notes, write papers, create presentations, shoot and edit a video, or take advantage of the 100s of applications being developed specifically for learning.
California School District Uses iPads to Help Teachers Deliver Quality Physical Education Program to Students

Sweetwater Union High School District (SUHSD) uses the SPARK PE curriculum on iPads to optimize outcomes for their students.
there are general applications – like Pages, Numbers, and Keynote – that can be applied in many different learning scenarios, and there are specific applications designed for particular subjects.
there are also applications designed to support teachers in the managing and delivering content including the distribution and collection of assignments, grading, as well as feedback and improvement. Some applications also allow both students and teachers to access files on school networks – like ClassLink's LaunchPad app.
there is at least one iPad pilot program in every state in the US – including pilots in elementary schools, middle schools, high schools, and universities as well as hospitals and medical schools.
A sweeping vote by the Detroit Lakes school board Tuesday night launched the district into a new realm in education.

With what seemed to be cautious enthusiasm, the board approved the purchase of 244 iPads, which will go to every single 5th grader in the Detroit Lakes Public School Districts, as well as every 5th and 6th grade teacher.

Two additional carts holding roughly 30 iPads each will also be purchased for Roosevelt Elementary and the High School, which will be shared amongst classrooms. Rossman Elementary already has an iPad cart, and the Middle School recently purchased one as part of their budget.

The cost for this initiative is roughly $105,000. http://www.dl-online.com/event/article/id/67926/
some schools are providing iPads to specific groups (grade levels or classrooms) while other schools are providing iPads to every student at the beginning of the school year. There are even a few schools making the iPad mandatory for all students
UTICA — Utica High School students are going to be connected in a new way next school year.

Every student will be given an iPad on the first day of school in the fall.

"I think it's the way education is going," Principal Mark Bowman said. "Myself and my staff are very excited, and my students are very excited. Any time you can get kids excited about coming to school, that's great."

The North Fork Local School District is leasing 560 iPad 2's at a cost of $74,500 per year for four years, with the option to buy each for $1 at the end of the lease, Superintendent Scott Hartley said. Teachers district-wide also will receive iPads.

The devices are being paid for through textbook and Title I money.  Utica High School Putting iPads in Student's Hands
at some schools the enthusiasm for adopting and implementing iPads is overwhelming.
190 Farmington teachers submitted applications to be among the first to have iPads in their students' hands when the 2012-13 school year starts in the fall. The district hopes to roll out 1,730 of the tablet computers to students.
Here's additional articles illuminating just a few of the many schools that are shifting to providing all students iPads:
Johnston School Board OKs Concept of iPad for Every High School Student
The initiative would provide iPads for each high school student starting the second semester of the 2012-13 school year.

Jefferson Elementary School in Oshkosh to buy iPad for every student

All Mansfield high schoolers will get an iPad

If School Superintendent Jim McIntyre has his way, what started as a pilot at Pond Gap and two other schools this year will be extended to every student in all 87 of Knox County's public schools by 2015. That means procuring some 56,000 iPads or similar devices and installing a robust wireless network and other infrastructure in every classroom in the county. With a multitude of instructional apps to choose from, teachers would have some leeway in picking the ones that work best for them.
New Zealand may be the first country to have all students have iPads in a 1:1 program that requires parents to provide them –  School iPad revolution may go nationwide
many of these schools are shifting to using digital textbooks – taking advantage of textbooks created with Apple's iBooks Author.
some schools hire new technology support personnel while other schools use students to help support new iPad programs.
Apple has even created an app that can be used to deploy and mass configure many iPads, iPhones, or iPods. Apple Configurator makes it easy for anyone to mass configure and deploy iPhone, iPad, and iPod touch in a school, business, or institution.
in Britain there has even been, for the first time, a pilot of an exam administered on iPads
The traditional pen-and-paper school test could become a thing of the past after a leading exam board successfully trialled the use of iPads for pupils sitting a mock GCSE.
there are even significant experiences taking place using the iPad with special education and learners who have various disabilities or are challenged learners – in particular young people with autism.
finally, this summer the largest education construction project – The American International School – will open in Asia
See the future of education today. 1 to 1 iPad program, virtual lecture hall and more. $300 million investment – largest K-12 education project in the region.
These articles reflect only a small portion of what's happening today (almost all of these articles were posted or printed in the last two weeks). In the future we'll highlight some of the behind the scenes requirements of implementing iPads in school.