The following is a guest post is by Jessica Meyer.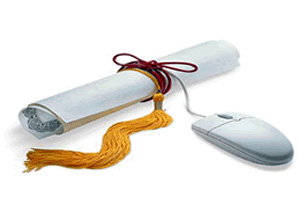 The notion that "information wants to be free" has some startling connotations for the future of education as we know it. The Internet makes it easier than ever before to disseminate information widely. Many people share information online daily, and for free. The system of higher education is a multi-billion dollar industry that charges students for the promise of an accredited degree to launch their careers. Soon, that degree may become an accredited online degree and cost thousands less, or may even be free.
Attendance at online schools has grown rapidly over the previous few years. An ABC News report states that 4.6 million students, or 25% of all Americans in college, enrolled in an online course of some type during 2009. This represented a 17% increase over online course enrollment in 2008, according to the report. "Higher education only grew by 1.2%," said I. Elaine Allen, research director for the Arthur M. Blank Center for Entrepreneurship at Babson College. "The 17% growth rate [of online course enrollment] really is what's driving the growth of higher education."
Some media outlets have discussed the possibility of a growing bubble in the higher education industry. Tuition costs have soared in the past few decades, and many graduates are saddled with more than $100,000 in educational debt upon graduation. Lower and even middle class students might find that total to be cost-prohibitive and worry about covering their education costs.
Accessible online education could put an accredited degree into their hands at a fraction of that cost. A US News and World Report piece from April 2009 discussed cheap online educational options that existed even a few years ago. Colorado State University-Global, the online version of CSU, began charging students just under $800 for its first courses. Lamar University from Beaumont, Texas, began offering online graduate courses at $412.50 each. Graduates could receive their Master's degree for less than $5,000 total.
Currently, however, online education lacks the credentials of its more traditional brick-and-mortar counterpart. Many nonprofit organizations are in the race to make free education available to a wide audience, such as University of the People or Coursera. Many of these groups operate for a time without any formal accreditation. Accreditation is often expensive for these groups and would wipe out a lot of the cost savings. However, no formal accreditation means that graduates of these programs risk owning a diploma that employers consider invalid.
At day's end, higher education levels in the United States would impact the country positively where the economy is concerned. The Wall Street Journal reported the results of a 2009 study by international consulting firm McKinsey & Co. on education's impact on the gross domestic product of different countries. The study found that if American educational achievement was raised to the level of other countries, including Finland and South Korea, the U.S. GDP would increase 16%, or $2.3 trillion. The largest education gaps found by the study were between students of different ethnicities, with black and Latino students faring worse than their white counterparts.
Online education could go a long way in bridging this gap in student achievement. In the future, students might be able to enroll in accredited courses from various prestigious institutions. The opposition may prove difficult, but cheaper accredited education online has the potential to greatly improve our country's economy at a time when we need it most.