The following article has been submitted by Lindsey Wright. Lindsey is a writer and can be reached at lindseywright39 @ gmail dot com. I've posted my comments in the comments section below.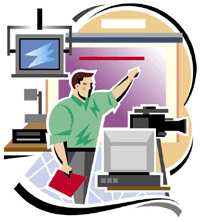 Can Technology Replace Teachers? 
What is the role of teachers in today's technologically driven society? That is really the main question to ponder when discussing whether technology can take the place of educators in the near future. Within the past decade people have started to take online courses and master foreign languages through computer programs such as Rosetta Stone, so imagining robots taking over the education realm isn't that far-fetched. Even though technology can do many of the same responsibilities as educators, there is one thing that  guarantees that technology can never take their place. Human relationships. A teacher does not just transmit knowledge; he or she guides his or her students. Teachers are mentors who encourage students to develop critical thinking skills and apply them to life. Teachers also pass on social skills and develop a moral compass to their students so transmitting knowledge is just a small part of what a great educator does.
Sugata Mitra is a revolutionary when it comes to educational technology. One of the most recent inventions that Mitra made is virtual classrooms where unsupervised children learn from one another. Despite the exciting work by professor Sugata Mitra however, teachers are still needed because machines have no supervision skills. According to an article from Fast Company, professor Mitra found that "children achieve only half of what their peers in face-to-face instruction can. Children, it seems, still need the encouragement (or coercion) of an adult to keep them from drifting off." So even though technology may help children learn, it doesn't help them stay on task during their studies.
Not only is it important to keep children on task, but it is also important that children are able to learn important life skills besides academics. A study from the College of Education at Michigan State University explains, "computers do not teach children to question, to discriminate among sources of information, to weigh perspectives, to think about consequences, to bring contextual meaning to a situation, to be creative, or to make careful judgments." These are just some of the few crucial skills that teachers are able to pass on to their students. Technology doesn't have emotions or the ability to think creatively so it would be impossible for students to attain important life skills from inside the classroom.
In Mitra's study, adults set tasks for children to accomplish. Children need an adult in all educational situations so they can provide input and guidance. Without this input, it would be difficult for a group of children to find a positive direction because they would not have a superior to look up to or to ask for help once a problem arises. Technology will not be able to answer every question that a child may have or will not be a great communicator for the child when they get frustrated or confused during their study. Even though children can learn quickly from one another, they need a responsible person to guide them in their explorations in order to achieve a positive outcome.
Out of any role, one of the most important a teacher can have is that of a mentor. Motivating children to pursue their own goals and dreams is the responsibility of a great teacher. When children are learning in school they shouldn't be surrounded by machines that can't talk, cope or relate to them. Teachers are excellent adult role models that children can become inspired by  in addition to their family members. Technology isn't something that will encourage a student and it definitely won't be a role model for the child to inspire them.
Many new teachers excited about incorporating computers believe that they should let their students explore on their own with the machines. In fact, Kim Bochicchio claims "computers are one tool that supplements the careful planning and personal interaction from a good teacher." Bochicchio, who has been teaching high school English for the past six years, further  explains that "technology is not always dependable. The Internet goes down, and only an English teacher can properly grade an essay and conference with a student afterward. Thus, in the past six years I have learned that technology can not replace the teacher and that students want to learn from humans, not machines."
All in all, with the increasing social isolation of the modern world, educators must keep in mind that it takes a person to teach wisdom, socialization and morals to others. Educators are the responsible adults needed to teach these critical life skills inside a classroom as well as the basic academics. It is apparent that machines cannot take the place of people and hence, technology will never replace teachers.