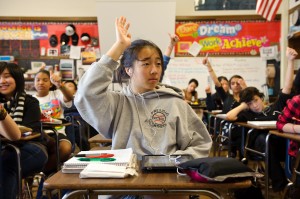 Now that a year has past since Apple introduced the iPad it's no longer 'new' to talk about the fact that more and more schools are using iPads. Every week I see more articles mentioning this – in fact, not only are they being used in schools but people are finding very creative uses for them.
Here are a few from this week:
A company (Safe School Security) has made an iPad application for bus drivers to use to take attendance on the bus. The application has the bus route management system programmed in to it so the location and time of when a child entered the bus can be logged.
This article (from last week) in the Omaha World Herald discusses how schools in Nebraska and Iowa are using the iPad for learners of all ages – http://www.omaha.com/article/20110330/NEWS01/703309893
This article talks about a charter school in Colorado that has found a way to get iPads for all students – http://www.thedenverchannel.com/news/27384567/detail.html
This Florida school district has received a $1million gift. They are planning on using the money to provide every student an iPad in August when they return to school. The donor said the gift was intended to change the high school and the community.
The University of Southern California (USC) has announced the release of an iOS application for use in the college of education. It will be used by new teachers in training. "This new app gives our MAT@USC students the ability to do their learning from almost anywhere, while preserving the quality of the learning environment our faculty and administration have worked so hard to create," said USC Rossier Dean Karen Symms Gallagher.  "This is a big step forward for the program, our school, and teacher education."
This is a bit more than a week old, but a Minnesota School Board has approved more than $1.1million to buy 1450 iPad 2s (and a bunch of other stuff) for an initiative they call Project REAL.
Another article a bit older than a week is about a high school in Massachusetts that is planning on providing students. Students and teachers at Burlington High School next fall will be helping to break new ground in Massachusetts on incorporating technology in the classroom. The school will be distributing Apple iPad 2s to students for use at school and at home. The district plans to acquire the computer tablets in a three-year lease-purchase with Apple, and then provide them to be used for free to all students who choose to participate.
The Waiting for Superman folks have released an iPad application that 'teaches' why education is important and brings light to some of the issues facing schools.
And just for fun here is a video I think is worth watching.
This is about man that is implementing iPads in a school in Scotland – Fraser Speirs. Here is his application for Apple's Distinguished Educator.
and the video on this page talks about paperless classrooms and the use of the iPad.