I was reading an article about some technology trends that schools will need to be aware of – and likely pursue – in 2011 and thought I would write about them. I'll go through the list from the article I read and make some comments.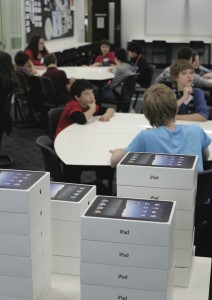 1. Mobile devices in classrooms
One of the biggest trends in technology all over the globe is the move to mobile – with cellphones getting more and more capabilities and with iPads along with a host of tablets coming out join the fray along side laptops and netbooks. I read recently about a trend where corporate CIOs will be shifting their networks to support all kinds of devices that employees bring to work with them. This same kind of model will move to schools but in a less democratic way initially. The use of technology that students already own will allow school districts to deal with budget issues while still keeping up with leading edge technology.
Expect this trend to gain momentum in 2011, said Roland Rios, director of instructional technology at the Fort Sam Houston Independent School District in San Antonio, TX. "Schools are smartening up and letting students use their tech tools in innovative ways," said Rios, who added that he expects such initiatives to be centered on concepts like "ubiquitous learning" and 24/7 access to technology.
The schools that "get it" will be the ones that stay ahead of the tech curve. "As educators, we really need to stay on top of this stuff," said Rios, "instead of constantly playing catch up."
I predict the shift to mobile computing will be one of the big trends in 2011 and more and more schools will adopt mobile devices for their '1 to 1' programs.
2. Web-based instruction
This trend has been slowly moving from corporations to higher education and will continue to make its way to high schools and middle schools. Crowley Independent School District in Dallas is just one of many districts that's already embraced distance learning across various disciplines, most recently for its summer school program. The move not only pushed the district further into the technology age, but also saved it some money.
"Like many other districts, we needed to find ways to conserve budget dollars," said Theresa Kohler, chief instruction officer. "We offered the online courses to students who wanted to gain accelerated credits, or to make up credits for classes they'd failed."
Using a password-protected system that was put in place in 2009, students either logged in from home or used the school's computer labs. "It was a pretty successful program," said Kohler, "and one we plan to expand and utilize more of in the future."
I predict more and more school districts will have online curriculum and instruction in 2011. It makes sense to take advantage of the energy taking over homes and businesses and using that to help students connect to schools whenever they can, where ever they can.
3. Technology based assessment and monitoring tools
Again, much like businesses, more and more schools are learning to use data in their management and improvement efforts. Systems will continue to be implemented that allow for teachers and administrators as well as students and parents to access school data. Dashboards are an example of how this is used in business – and these dashboards will make their way into schools. Automated monitoring and assessment tools will continue to gain in popularity in the K-12 space.
An example of this type of tool are classroom "clickers," which teachers can use to engage students, even in the most crowded of classrooms. Combine the assessment tools with the clickers and teachers can quickly ascertain whether a lesson has "sunk in" or determine whether further instruction is needed.
"We've had really good results with this technology, which gives our teachers real-time data instantly," said Kohler, "instead of having to wait for the graded papers and tests to come back."
The world is going digital and it makes total sense to move assessment and monitoring tools to a digital format as well. We should see that trend continue in 2011.
4. Cloud Computing
Cloud computing is huge buzzword in business circles. Most people are already familiar with cloud computing but possibly not by that name. Anyone using Google Gmail or Google Documents is using cloud computing. The way to think of it is not having to buy your own networking equipment but relying on and deploying someone else's equipment and services. They maintain them and they upgrade them – significantly cutting costs.
"We're doing a lot of cloud computing in our district," said Lynn Reedy, educational technology specialist at Stafford Public Schools in Stafford Springs, CT. "We keep all of our data on a network that's shared among teachers, and we encourage them to use the cloud."

Recently, for example, all the district's K-12 classrooms began using MimioConnect as a resource for sharing lessons and information, and for uploading files. "We don't have to worry about space because the files are all stored in the cloud," said Reedy, "and accessible to everyone."
My prediction is there could be a huge wave of schools adopting cloud computing – as it complements the first prediction of mobile computing and allows for any time, anywhere access to data and applications. Cloud computing could help schools address ever lowering budget allocations and enable schools to alway have the latest computing power and tools at their disposal.
5. Professional Development
I've mentioned in an earlier post that nothing really matters if we introduce technology without changing the process of learning and the way teachers teach. Technology won't help students if teachers can't use the tools, or show students how to use them.
I've argued in years past that both teachers and students need to learn the same stuff.
"We're trying to get to a place where professional development is available all the time for our staff," said Reedy.

Stafford is also partnering with other districts to create online educational options for teachers who need further enrichment on topics like "how to use your whiteboard" and "how to develop interactive lessons for your science class." Reedy said the expanded professional development helps "keep teachers on top of things and in tune with new technology."
I don't expect we will see joint or common professional development any time soon (where students and teachers share the learning environment) but we will see expanding professional development programs as well as some schools allowing students to start teaching teachers and other students.
http://thejournal.com/articles/2010/12/02/5-k12-technology-trends-for-2011.aspx
From another article I read there seems to be a growing movement to use iPads to replace text books. This is something I suggested in one of the first posts I made to this blog back when the iPad was released.
If we combine that potential trend (which would change the cost structure for schools) with the other trend of moving to the cloud – off loading the purchasing and maintaining of servers and software – schools could see a different type of technology budget shaping up in 2011.
From that article:
The iPad is going to be very big in schools, predicts Professor Mark Warschauer, one of the world's leading experts in technology and learning.

In an exclusive interview, Prof. Warschauer predicted that schools may soon start buying iPads in big numbers to replace not just desktops and laptops, but also textbooks and other reading materials.

"Until a couple of years ago, the majority of book reading — and a lot of magazine and newspaper reading — was done in print," he said in a phone interview. "I think we're going to see that change now."

"The laptop is great, but the iPad is potentially better in a lot of ways," he said. "It's a lot better for reading. It's a lot more interactive with the touch screen. It's lighter. It's smaller. It's got a 10 hour battery life. It costs a lot less than the cheapest Mac laptop, at least. There are certain disadvantages as well, but this is the first generation."

Next year, when school districts free up some money in their budgets, we will see a lot of iPad pilot projects.

"There will be a lot of interest," Warschauer said. "You can do a lot of the stuff you can do on laptops, but they are great for reading, especially as textbooks go into the digital realm."
http://www.cultofmac.com/ipad-may-replace-computers-and-textbooks-in-schools-expert-predicts-appli-in-education/70112