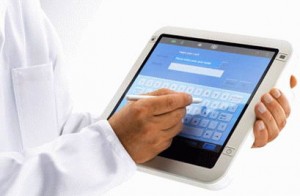 As the iPad continues to have success in the many countries it is now available in, other computer manufacturers are starting to announce and deliver their offering into the tablet market (I've listed a few of them below). For school personnel – teachers, network administrators, and policy makers – the advent of new tablets could present a problem.
Which one is the best for our school and for our students? Which one is the best for learning? Which one does what we want it to do?
I've mentioned in a previous post how I get a lot of value from a blog set up by a guy named Fraser Speirs. He's leading the iPad effort at a school in Scotland. In a recent blog post, Fraser outlined how he thinks about technology strategy as it relates to the iPad. I've re-posted his thoughts here because I think it's brilliant – and it gives us a really good foundation for thinking about and evaluating any alternative tablet that comes out!
From Fraser:
I can't tell you which device we'll be using in 2012. I can't tell you how long its battery will last, or how much memory it will have or what the interaction model will be.

I can tell you some long-term big trends that I'll bet on right now:

Pupils and teachers will never wish they had fewer computers.
Pupils and teachers will never wish their devices had shorter battery life than the iPad.
Pupils and teachers will never wish that they had to queue up to get access to computers.
Pupils and teachers will never wish that their internet access was slower.
Pupils and teachers will never want a device that's harder to use than the iPad.
Teachers will never want to have to go to a special classroom to use The Computers.
Nobody will want a device that's more expensive and less capable than the iPad.
Nobody will want to carry around a device that's significantly heavier than the iPad all day.
Pupils will not want to use a special "education device" when the market is going elsewhere.
Schools will not want to deploy a device that requires more tech support than an iPad.

And that's the strategy. This is how we think about technology at Cedars. We know that we don't know. We don't plan 10-year strategies, we plan 3 years and we finish the plan in a few months then we do it.

I don't much care if, in five years, we're using Android tablets – as long as those Android tablets last longer, are easier to use and deploy, are better and cheaper than an iPad. If future devices deliver information faster and better than an iPad, then we'll switch to those devices.
I have my own opinions – which is why I started this blog and continue to write about the iPad. The experience of the iPad is almost flawless. It's an amazing form factor and an amazing implementation of a computing experience that's pretty hard to beat. And now with the iOS 4.2 release the iPad has multi-tasking, folders, can print and can stream music to an airplay enabled device (among other upgrades).
With that in mind, here are a few of the tablets that are being touted as iPad alternatives.
The Kno Tablet
Kno is launching a tablet-style computer aimed a students. This tablet style computer – available in single and dual-screen models –  to take and annotate lecture notes, can be used as an ebook reader and to organize school and university calendars and keep track of projects.
The entry level Kno reader has a 14in screen, and will cost around $599 when it goes on sale in the United States, $100 more than the entry level iPad. The dual-screen version also features 14in displays and will set students back $899. Both support touch input, and are based on a Linux operating system.
The devices support Flash and HTML5 for web browsing, as well as high-definition video playback, and music and audio recording. Users can navigate menus and input text using a finger or stylus.
The Galaxy Tab
Purchased through a cell phone carrier, the Galaxy Tab (made by Samsung) sells for about $399 with a two year contract. This tablet computer runs the Android operating system and therefore has access to all the applications that any Android phone would have (but not as many as is available for the iPad/iPhone).
The Galaxy's screen has about three times the surface area of most smart phones, including the iPhone. In this sense, even though it runs mostly the same apps as the Evo, the Droid, the MyTouch and others, the Galaxy Tab is a tablet — it's imperative that you feel like you can do more with it. The iPad of course is much larger, and clad in aluminum, it weighs slightly more. Most importantly, that 3-inch difference in diagonal screen size actually means that the iPad has twice the touch surface. If Galaxy Tab is a tablet, iPad is still the tablet.
The Galaxy can read books (it's about the size of a paperback) but the battery life is about 7 to 8 hours. You can watch movies on it (it supports Flash and HTML5), you can run apps on it (as mentioned), and it has a camera so you can do videoconferencing (which is something the iPad cannot do).
Acer Tablets

Acer announced three tablet computers this past week. One of them is more of a phone than a tablet (7″ screen). That one and another 10.1 inch table run the Android operating system. A third is a 10.1 inch tablet that runs the Windows 7 operating system.
The flagship 10.1-incher looks quite interesting, boasting a dual-core 1GHz processor, an HDMI output and a native 1280×800 (!) screen resolution. You'll also get a 5 megapixel rear camera, an "HD" front-facing camera for video calling and full multitouch support. The 10.1-incher boasts a 13.3mm thick shell, 1080p output over HDMI, a ten-point multitouch system and an inbuilt Gyroscope for gaming purposes. Pricing hasn't been announced and it ships in April 2011.
The 7-inch tablet (also unnamed as of now) packs the same screen resolution, a dual-core 1.2GHz Qualcomm CPU and the same Flash 10.1 support. The 7-inch seems mostly identical to the 10.1 inch version except for the screen size, packing a dual core CPU, DLNA technology, WiFi and integrated 3G. This one is also available in April of next year.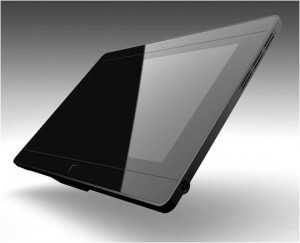 The 10.1-inch Windows 7 tablet from Acer looks like it may be available in February, 2011. Boasting an ebony motif and more gloss than a man could ever know what to do with, this (also unnamed) device will measure 15mm thick and weigh under 2.2 pounds, and while we're still left to wonder about the screen resolution, HDD size or memory amount, we are told that it'll use AMD silicon.  Judging by the image on the right, Acer is planning a docking solution in order to make it more useful at home. Other tidbits include a pair of 1.3 megapixel cameras (one rear, one front-facing), inbuilt WiFi and 3G.
Asus Eee Pad
Asustek has officially unveiled the Eee Pad, a 12-inch ultra-slim Windows-based tablet computer which operates as a PC, Internet device, e-reader, and multimedia player.
The Eee Pad EP121 features a CULV Intel Core 2 Duo processor, two modes of character input – an on-screen virtual keyboard and a special docking station keyboard, Windows 7 Home Premium OS, and more than 10 hours of battery life.
For greater mobility, there is also the 1.5 pound pocket-friendly 10-inch Eee Pad EP101TC. It runs on Windows Embedded Compact 7 OS.
There is no official info on pricing and availability for the new tablet devices. According to earlier rumors, the Eee Pad is expected in 2010, with an estimated price between $479 and $510.