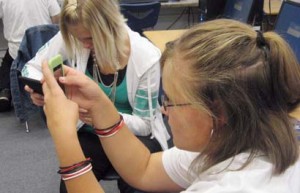 Until recently I didn't realize that numerous schools were using iPods for learning – not just for listening to music but as a study tool/aid and as part of classroom learning. If this is true, that teachers and schools are finding real learning value from iPods, it makes sense this can lead naturally to finding iPads in these same schools at some point.
It makes sense that people would enjoy the small form factor – however in my opinion, the iPad is a better learning tool because of it's larger screen and better user experience. If the iPod makes a good learning tool then the newer, more powerful, iPad should make a better learning tool.
In a recent article about the iPod in school, Joe Morelock, the director of technology and innovation for the Canby School District in Oregon, shared how he started a pilot program of iPod Touch devices in a single third-grade classroom. The pilot's success led to the district setting a goal of providing every third-grade student with access to an iPod Touch.
This graph, just one from that article, shows the number of students that meet or nearly meet the math requirements on a standardized test are much higher for the iPod Touch classroom (left circle).
The Canby School District is extending the iPod program by providing iPod Touches for all third graders district-wide during the 2010-2011 school year. In addition, pilot programs using iPads will run at the elementary-, middle- and high-school levels.

Perhaps most importantly, both students and teachers love using the devices:

You know that little boy who came up to us this morning? He loves the iPod Touches. They have made an incredible difference in his math work. He has Asperger's, and before the iPods, he could never sit through a math class. The kid absolutely loves math now and gets As. He sits himself up at the front of the room — he likes to be by himself — tucks his foot up, leans on the desk and goes to town on math. It's simply amazing. — Gale Hipp, sixth-grade math teacher. [Note: Link added.]
And simply:
This is the most fun I have had teaching in the last 25 years. — Deana Calcagno, fifth-grade teacher.
In another article I read about some Vancouver schools testing the use of iPods as learning tools.
What do the iPods offer?
They allow students to repeat drills, dig up research material or view short video lessons on hard-to-grasp concepts. All at their own speed, without disrupting others, freeing up teachers for more one-on-one attention.

The hands-on activity engages brains, often better than a teacher's monotone and overhead screen might. Students can repeat a lesson until they truly "get it," minus the embarrassment they may feel in front of classmates. their peers can race ahead, even play one of several skill-building games.

The iPods also let students whose home lacks a device or wireless Internet access master technology and learning styles they surely will use in the years ahead.

"It's a totally different way" of classroom instruction, said Kara Beu, one of several King teachers who received special training this summer. "It's not so much teacher-controlled, it's children-controlled, which has been kind of nice."
In my point of view the iPad would be the most logical step beyond the iPod. How long with that take? We'll see!
Sources: