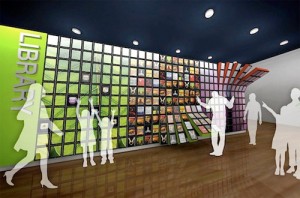 A recent research study found that young people are open to, and interested in, reading e-books (more so than their parents). This makes sense to me as most young people are more comfortable with technology as a natural part of their lives. As more and more young people find value in using these types of tools it makes sense we would see these tools migrate into the library experience.
Here's a quote from an article about the e-book study:
The 2010 Kids and Family Reading Report, released Wednesday and commissioned by Scholastic Inc., offers a mixed portrait of e-books and families. Around six out of 10 of those between ages 9 and 17 say they're interested in reading on an electronic device such as the Kindle or the iPad. Around one out of three from the same age group say they'd read more "for fun" if more books were available on a digital reader.
Combine that research with technical revolution taking place in libraries and we can see a natural progression to having iPads and other electronic reading devices becoming a natural part of the library experience.
We've already explored briefly how the iPad can be used for research. Combine this idea with the fact that libraries are becoming more technologically savvy and we can see one very clear application emerging. This quote from a recent article about public libraries makes the point:
Libraries are tweeting, texting and launching smart-phone apps as they try to keep up with the biblio-techs — a computer-savvy class of people who consider card catalogs as vintage as typewriters. And they seem to be pulling it off.
The more the world changes the more schools will have to change. If young people experience their local library (which some still do) as being a 'cool' place to be and one in which exploring and learning is encouraged, wouldn't they expect the same thing from their school library? And if their explorations and learning come in some way through the interaction and use of technology it makes sense they would expect that to be true in their school libraries as well.
From that same article:
In Princeton, N.J., 44 people are waiting to borrow Kindles, a wireless reading device. Roya Karimian, 32, flipped through the preloaded e-pages of "Little Women" after two months on the waiting list.

"I had already read it, but I wanted to experience reading it on the Kindle," Karimian says.

A growing number of libraries are launching mobile websites and smart-phone applications, says Jason Griffey, author of "Mobile Technology and Libraries." No one keeps tabs of exactly how many, but a recent iPhone app search showed more than a dozen public libraries.
It makes sense the same thing would be happening in school libraries.
I can imagine many applications being developed specifically for libraries.
Each library can have their own specifically branded application – like a library guide – that helps users navigate their way in and around the library. As more and more books are digitized it makes sense that there will be both physical and virtual versions of books so I could imagine people sitting around the library reading books on their e-book readers. When doing research it makes sense that someone with an iPod or iPad like device could ask the librarian for help – but not necessarily in person. It could be through the device – like a walkie-talkie – or even in the form of 'point me to a specific book' using a digital map of the library.
The image included at the top of this post is an imaginary wall of iPads – in a library. It comes from an interesting article about using the iPad in museums in libraries. The article talks about museums and libraries using the iPad to displays e-books and introducing a tactile way of accessing information.
More and more schools should find their own media centers and libraries using tools like the iPad for students.
One more thing. This may come as a surprise, but an elementary school in Pheonix has just opened the first iPad lab. So the media center could look like a whole slew of iPads instead of rows of computers!
Based on a sixth grader's winning essay on the future of technology in education, the school decided to open the iPad lab to give the students the same interactive learning environment they are used to outside of school.
Sources: