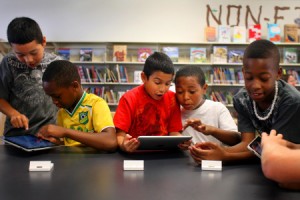 I just came across a great resource documenting some significant school investments in iPads. The author makes a bold claim that since there is this much investment to buy iPads for school use it is likely schools will be using them ahead of businesses.
I don't think this is a fad. Schools cite numerous reasons for investing in iPads including:
Instant and personalized access to information
Creating more interest
Making users more productive
Freeing users from wires (and letting them move around)
Saving money
Keeping users up to date with current technology
Here's the top 13 schools and their investments from the list I found (see a link to his google doc below for more than 50 examples of schools making investments in iPads):
1) Florida State College at Jacksonville has deployed 350 iPads to executives, administrators, faculty, IT staff and students. "It's the first phase of a project calling for a thousand iPads to be delivered throughout the college by the end of the year, including at libraries and labs where students can 'check' them out," wrote Tom Kaneshige in CIO magazine.
2) As many as 736 students in the Chicago Public Schools will test iPads this year in 23 schools. One school, Burley Elementary, will use them to provide individual instruction and encourage critical thinking through multimedia apps and collaborative tools.
3) The California Department of Education, in conjunction with textbook vendor Houghton-Mifflin, are testing iPads with 400 eight-graders in four school districts (San Francisco, Long Beach, Riverside and Fresno).
4) Gibbon-Fairfax-Winthrop High School is investing $267,748 for 320 of the 16 GB Wi-Fi iPads with extended two-year warranties plus wireless infrastructure for the public high school near Mankato, Minnesota.
5) The University of Adelaide in Australia plans, starting next year, to give free iPads to "hundreds" of first-year science students. Lecture notes, audio, background docs and textbooks will be delivered through "tailored web-based apps" for iPads as well as regular notebook PCs.
6) In rural northern California, Avery Middle School is using 170 iPads with 6th-8th graders to help "displace expensive textbooks, promote active engaging and learning…and greater flexibility in accessing course materials, even in rural areas," according to a news release.
7) Marymount School has given 150 iPads to its students and teachers. The private all-girls school in Manhattan hopes to have enough for all 550 students by early next year.
8) Cedars School of Excellence in Scotland has rolled out iPads to its 115 students, a project being documented as The iPad Project by teacher and blogger, Fraser Speirs.
9) Stanford University is trialing iPads with 91 first-year medical school students.
10) Alexander Dawson School, a private K-12 school near Boulder, Colorado, is leasing-to-own 90 iPads for 3 years for $36,000 total (normal retail price: about $45,000). The iPads are preloaded with about 30 textbooks for the 5th and 6th grade students using them.
11) Morristown-Beard, a private middle and high school in New Jersey, hasissued iPads to 60 students. If the trial is successful in encouraging teacher-student interaction (compared to the laptops used today), it will give iPads to all 500+ students next year.
12) Pikes Peak Prep in Colorado Springs, Colorado has bought 50 iPads for students to use in math, science, language arts and social studies. Students will send screen shots of work rather than turn in papers and also perform virtual frog dissections using the iPads, according to the principal.
13) Notre Dame University is testing iPads with 40 business students, according to a Forbes magazine article by Elizabeth Woyke.
Google Doc with more than 50 examples of buying iPads for school.